This shop has been compensated by Collective Bias, Inc. and its advertiser.
All opinions are mine alone. #PeriodConfidence #TryTheDivaCup #CollectiveBias
If you've been reading my blog for a minute, it's no secret I've been putting a lot of focus on making positive improvements. Each day I strive to be a better person than the day before, and with this blog I'm taking y'all along for the ride. Seriously, imagine that I'm e-holding your hand as we grow together.
I've talked a lot about mental wellness recently, but today I want to share some tangible, sustainable changes you can make to your routines–the bathroom ones in particular.
What the heck does "sustainable" mean?
When talking about something being "sustainable", the goal is essentially to maintain the current state of things (aka environment, society, or the economy). You want the needs of the present generations to be met without negatively impacting the ability of the future generations to meet their own needs.
You may have heard different buzz-phrases like "going green" or "leaving a footprint", but the concept is really the same all around: doing your part to contribute as little damage as possible to the Earth. Heck, leave her better than you found her.
[clickToTweet tweet="The concept is the same all around: doing your part to leave the Earth as you found it." quote="The concept is the same all around: doing your part to leave the Earth as you found it."]
4 changes you can make.
1. MAKE YOUR OWN TOOTHPASTE.
I mentioned recently that I'd fallen in love with making my own toothpaste, and while I did it out of necessity at the time, I'm kinda stoked to start ditching the plastic tubes! Did you know it can take up to 450 years for plastic to fully break down?? Y'all, that's insane. When you combine the chemicals leeching from the container with the artificial chemicals in your toothpaste, imagine what you're putting in your body (and the environment when you toss that tube in the trash)!
2. DITCH THE LOTIONS.
Guys, not only do things like lotions and conditioners contain synthetic chemicals and preservatives, it's seriously a waste to invest in so many different products. Instead, find yourself a good multi-use oil and well… use it! Coconut oil has been a pretty solid contender in the wellness community for a while, but avocado oil is on the come up. Whichever you decide is right for you, feel free to put it on your face, hair, body, and even use it while oil pulling–all while happily knowing you're not putting any garbage on (or in) yourself.

3. INVEST IN A DIVACUP.
Did you know that something close to 19 billion pads and tampons are disposed of annually? Can you visualize just how much waste that is sitting in a landfill? Hint: it's a lot.
Many tampons and pads contain bleach (so they start off white!), odor neutralizers, perfumes, and dyes. Not only is that (slowly) decomposing into the environment, you're putting it into your body! Knowing that, making the switch to a DivaCup seems like a total no-brainer. Not only are there no crazy additives and chemicals, the healthgrade silicone is outright better for your overall health. Plus, because silicone is pretty dang durable, you can use the same DivaCup for almost a year. That means you can spend that monthly hygiene product cash on something you really want.
PS. You can wear your DivaCup for up to 12 hours without worrying about changing it. No more running to the bathroom in the middle of your day because of a mishap! I'm sold.
Be sure to read the user guide HERE if you have any questions!
[clickToTweet tweet="With no crazy chemicals, the switch to DivaCup is a no-brainer." quote="With no crazy chemicals, the switch to DivaCup is a no-brainer."]
4. CHANGE TO A METAL RAZOR.
This is such a small but easy change to commit to. Rather than toss a couple dozen plastic razors in the trash on a yearly basis, make the switch to a metal safety razor. I totally get that they can be daunting (putting the individual razor in is a dang experience), but it's worth it! The shave is cleaner because the blades are sharper, and they last generally last longer because they're not made to be one and done.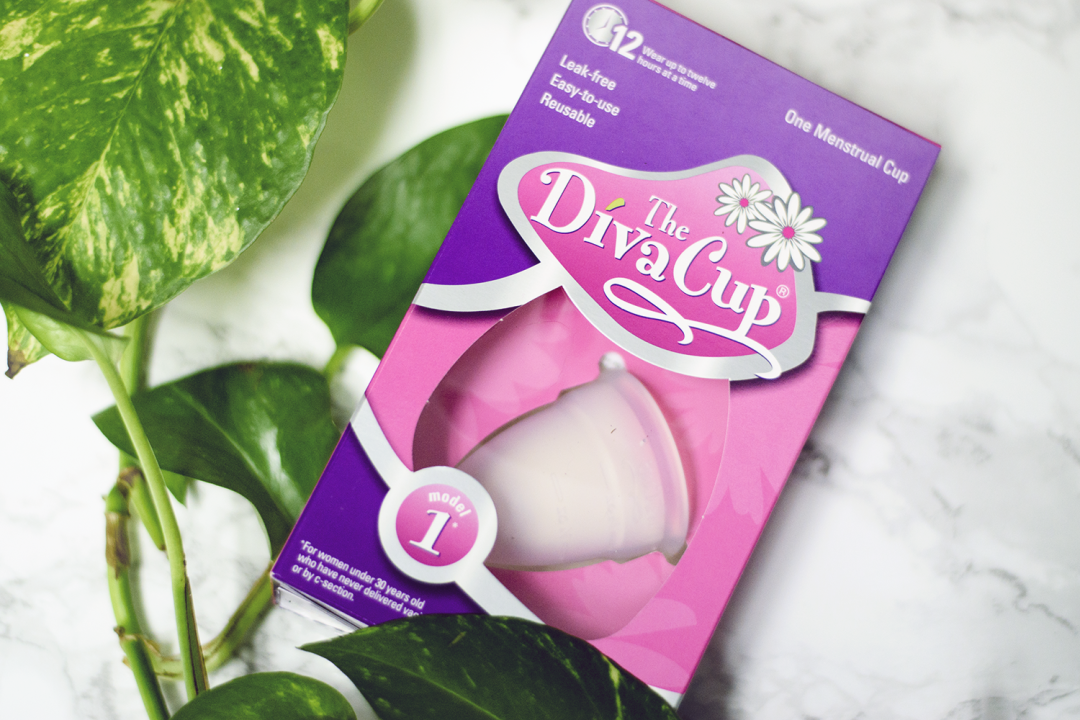 You can click the image above or HERE to figure out where to buy your own DivaCup.
I was able to find mine in Walgreens in the feminine care aisle.
What are some sustainable changes you've made to your private routine?
Share below!